I was trolling through photobucket today looking for pictures for hump day and here is a sample of what I found. Now since nothing has happened since yesterday I have to troll around in the mudd to find something worth posting haha:
1) I like this one hahahaahhaahhahahh
2) I have no idea but it was labled as 'hump'
3) I watched this thing for about 10 mintues straight before I was able to look away haha
4) Barbie and Ken are going to start a fire in their happy Malibu home!
5) One for the guys...
6) One for the ladies...
7) and one for the freaks....
8) and one last one....for the video geeks out there: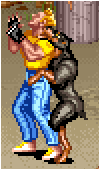 I hope this little funny has helped everyone on HumpDay, and if it has not got to photobucket.com and search the word "hump" and I am sure you will not be disappointed.
Now for something completly different.....
Moment of Zen: