Holy hopping hell I am blogging from home because my new duties at work have killed all of my mindless surfing. Between using their resources to get a degree online and the actual work they want from me now my internet usage has almost become adult....in the sense of mature and not XXX. Which is my norm but not lately.
Even at home I do not troll as much smut as i used to. I don't even have time to show my trouser snake who's the boss anymore. It also doesnt help that the computer is in the living room. Having a tug of war with my ham wallet during family tv time isnt really exceptable behavior in any society.
But in honor of my duties I went and looked up 'DooDie' to show my love of work....
1) My new slogan!
2) I love white teeshirts....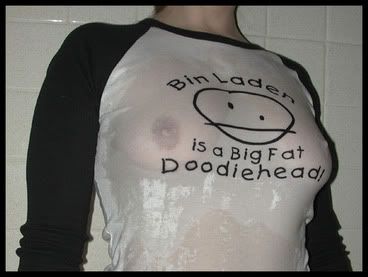 3) He is one doodie dont mess!
I missed making note of what happened to me this weekend. Now I learned somthing about what to do before something to get your self ready. If you watch the workout channel before hitting the gym the workouts become better. Watch a movie about boxing and you suddenly become a boxer, not a very good one but a boxer never the less. You look at a little porn before running over to your girls place for a booty call and you might set her cooter on fire from friction.
Now all of these are good ideas, but I made a little booboo in this area. We went to a birthday party on Saturday and I have been watching Beer Fest for the past few days ....so to say the least I was psyched about drinking.
Great ass movie, if you like drinking. But like I said I was totaly pumped to pound them down. I was putting them away with gusto that would have scared an Irishman on a bender. Nothing bad happened, my pants stayed on the whole night, I talked anyones ear off that would listen and the wife was a little pissed about me being pissed.
I dont know, I get around beer and I become a fucking gold fish. i wont stop until its gone or I am gone. I did not vomit or break anything but my slurring and babbling was a bit over whelming even for me. But all was good, I did not even have a hang over. I dont get them often, lucky me.
But this proves how suggestable I am, show me titties I get a boner, show me beer I get a boner, show me a flower I get a boner. Men are the simpelest creatures on the planet.
I know its still Tuesday but dog only knows when i will be on next, so have a Happy Hump Day. The weekend will be here before you know it!