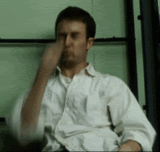 This is about how I am feeling at the moment. I am on vacation next week and I am trying to tie up loose ends but everytime I take a step forward I have something new to do. How the hell can I finish something if I am not allowed to close out some from 2 seconds ago. Work would probably go better if I stopped bullshitting all day lol. I am such a lazy ass lately.
But what ever, I still might punch myself in the face to help get me off of blogging for 2 seconds so I can get this HUGE pile of paper from the "I shoud do" pile to the "Done and Dead" pile.
Angry white America working hard at perpetuating a alcoholic feeding frenzy of paper work.
I need a fucking hobby, maybe I will take up old fashioned bare-knuckle boxing or rugby lol. But then again maybe not, I like how all my teeth line up.
This is a shit ass post and hope to get a better one up sometime soon but we will have to see.