-Well little man has a throat virus and is full of snot and coughing happiness, I sooo want to make it all better for him, he is sooo miserable its heart breaking. Then to top it off Cheese had to get 3 shots on Tuesday, vactinations.....5 of them, in 3 shots. I could not be there because of work but I have been there for my other 2 so I know the pain. I was talking to the little woman on her cell phone moments before the doctor stabbed the poor baby and he was cooing and babbling like a happy little person and then BAMB......he little world came crashing down around him.
Baby's mind after the attack:
"The mommy person brought me to the man in white and he stole my soul with his daggers of flith and pain! Oh the agony, oh the pain and all I can say is WWWWWAAAAA! I am so going to keep thier ass awake tonight for this indignity!"
After she brought him home he had this look of 'touch my booboo and I will kill you' on his face.
But after a while he was back to normal, he did have a little problem but it was only a small screaming fit but some boobage helped sooth the savage beast. Just like a man, give him a little titty and everything becomes right with the world.
I dyed my hair last night. I was hoping for a lighter sade than what I got, you cannt really even tell I did anything. It looks redder, that is for sure but nothing as earth-shattering as I was hoping for. I will probably do it again soon to get a lighter color, nothing too drastic but enuff to get a little attention.....yes I AM AN ATTENTION WHORE!!!!! SOOO LOOK AT ME DAMNIT!
Speaking of looking at me and all my glory I present to you a picture that the wife took of me and cheese.
Hmmmm taste like chicken, werid I know.....
I have a few left over halloween pics I got off the sister-in-law's camera. Cheese was dressed up as a duck but only a few ppl got to see because it was a little to cold to go out with him.
And since it is HNT I thought I would give you a pic of the wife unit. Can you tell which body part I noticed firt? I love dis woman......could not get any more woman than this!
I was already a little drunk when this picture was taken. Now that means I was acting like a jackass, hince the face I was making here. But the outfit and the state of mind went well with my costume haha!
and p.s. That is not my gut! I was wearing a fat suit I bought of some Ebay halloween store.
And in light of what has been going on these days and the up cumming holiday I had to post this old pic. I am sure most of those who troll through the internet like I do have seen this picture enuff time to make you sick, mainly because the damn bird didnt peck off his pecker. Butttttttt with all the Democrates in power now.....its just about as close as we can get to that wish hahahahahahaha.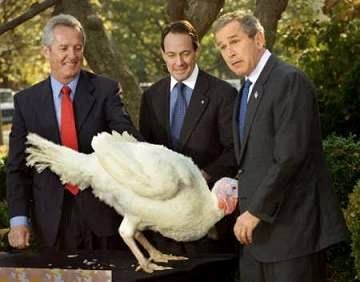 Gooble Gooble Gooble.....any one want to take a guess to what kind of gravey they served with this bird?