Well I had a very busy weekend but very productive. Me and the little woman had a doctors appointment to have an ultra-sound done. Since I dont have Tom Cruise's money or insight to the world we had to go to the doctor to get it done. And as it looks everything is going to plan, she is due in early August and ITS GOING TO BE A BOY! That is right ppl, another boy! This John Wayne pistol of love has nothing but man juice in these bullets. That will be boy number three for me haha. The wife unit was a little disappointed it wasnt a girl but she is very happy that everything looks healthy and normal. The picture below is the blob of whatever that the tech told us was our baby boy. Only a few times was I able to tell I was looking something human. Like when she showed us his spine, profile, and hand. Other than that it was as if I was looking through the eyes of that creature from the movie Predetor.
ITS A BOY!
The rest of that day consisted of me clearing out the area that will be the spot for our pool this summer. Last summer you could feel all the little stones and acorns that we missed and boy did they hurt. Luckily they did not peirce the flooring, it was a Target bought pool ppl nothing special. But it is good enough for our needs. So here I am with this dirty hoe pulling up dead grass, acorns, rocks and dirty. It was one hell of a work out, but the sun was out so I was able to go shirtless for a few.
Suday, the great day of the egg was a good day. After I picked up the oldest from the ex we went over to my moms house for breakfast. My mom gave them more chocolate and sugar and sent us on our way. On the way back we stopped by the spring they have out by her way for some free water. I wonder how long it will remain free?
Now as the day wore on I went out and finished the dirty hoe job I had started the day before. And also in an attempt to keep the little dirt monsters out of piles of soon to be mud haha. We later did the whole egg hunt with the kids, it was primarily for the little one. The kids would have been happy with just the bags with the candy in it but it is always fun to make them work for it a little :-D. Am I evil or what!
Here is the little one showing us how he feels about finding chocolate growing in the backyard.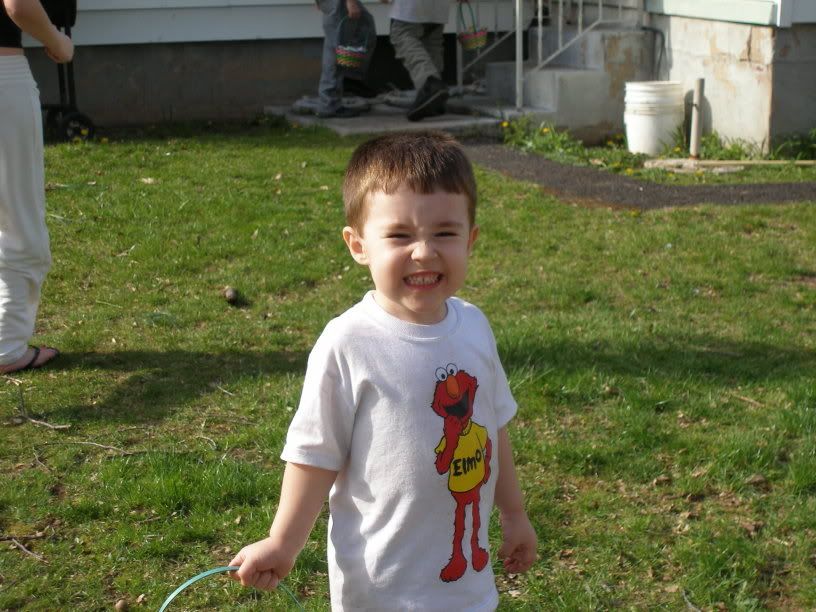 The oldest and bro in law showing their egg pride! Can I get ah WOOT WOOT!
Here we have me showing everyone how I feel about video taping the monsters picking all of my egg of the plants that I put so much effort into growing. I am Egg-static!
It was a great weekend with lots of sun and fun and work. I wish all weekends were this good lol. I even got a little sun, I got a free tanning bed in the back yard....its called my blanket and an Ipod haha.